BRITISH ALPACA FASHION - BEST BRAND !
RURAL BUSINESS AWARDS 2015
On the evening of Thursday 1st October the British Alpaca Fashion Company was recognised by being awarded "The Best Brand" at the Rural Business Awards 2015! The glamorous ceremony with over 200 guests and important sponsors such as CLA (Country Landowners Association) took place in the heart of England at the luxurious Stapleford Park Country Hotel & Sporting Estate, Melton Mowbray, Leicestershire.
The aim of the awards is to give recognition and the highest possible visibility to businesses working across the rural sector encouraging the entrepreneurial spirit of the British countryside.
The British Alpaca Fashion Company had all the cards to play - and win! - the game being a new brand which celebrates British textile heritage taking a further step towards the fashion world.
WINNERS OF UK START UP HUB COMPETITION 2011
EXHIBITION OF FIBRE ARTS AND FUSION FASHION
10 JUNE 2011
The exhibition and fashion show was a truly remarkable collection of varied designs for the 21st century based on design ideas from diverse cultural traditions but always keeping as its central focus "British Alpaca Fashion" for the world we live in.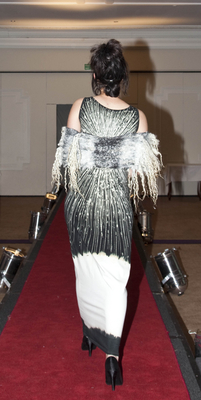 At the exhibition there was a display of the traditional craft of spinning by Jan Shailes who has been involved with Tippens Wood Alpaca from the outset and a great source of inspiration for the research and development of British Alpaca Fashion. There was also a display of traditional Indian textiles and clothing brought specially for the exhibition by Indian designer Jaya Misra who travelled from Kolkatta. There was an original pashmina woven from Kashmir wool from the Moghul period showing the paisley pattern in its original form. Her collection on the catwalk displayed a range of designs with an eastern flavour for the west. The Arabic embroidery using British alpaca and weaving section also created much interest at the exhibition. These exhibits had been flown in from Bahrain by designer Weaam Sperinck. There was also a small display of interior design – which showcased British Alpaca curtain fabric, upholstery woven by Jan James for a chair made by Rebecca Atkinson and some unique modern art by Swiss artist Viktor Anderau.
The show ended with the catwalk …………….(or rather the alpaca walk !) of an exciting and glamorous collection of styles from the East to the West of British Alpaca Fashion. The British Alpaca Fashion Society based Wokingham raised around £400 for Building for The Future a local Charity for Disbaled Children from the guests who attended and Barclays Bank Plc who also attended and helped at the show and matched the contributions raised at the event.